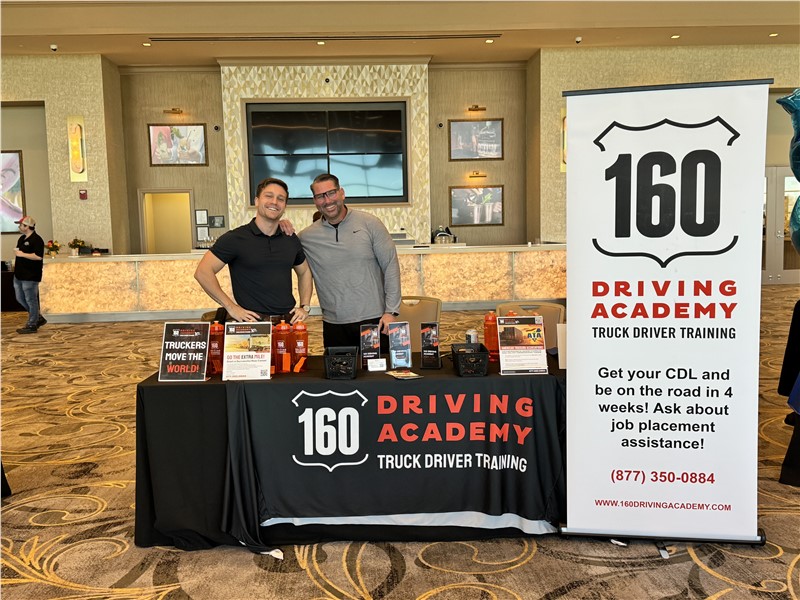 160 Driving Academy Florence Branch team participated in the NKY High School Senior Career Fair on Monday, November 13th and Tuesday, November 14th, 2023.
The NKY Career Fair had eight different high schools attending, and the Florence team was able to give high schoolers information about all things 160 Driving Academy, and potentially a different career route after high school, and a chance to explore our truck too!
Want to learn more about 160 Driving Academy? Contact us below.
📲 Call: 888.714.3055
💻 Register: https://lnkd.in/e9JwPBVm
📍8069 Connector Drive, Florence, KY 41042
Overview of 160 Driving Academy CDL Training Programs in Florence:
Starting salaries for 160 Driving Academy graduates (on average) start at $65,000/annual, with tremendous growth potential.
Hazmat (H) Endorsement holders, on average, earn upwards of $10,000 in additional earnings.
Commercial Truck Driving is one of today's fastest growing career paths. Estimates predict 300,000 new jobs for CDL Holders.
Technologically Driven: Our unique and data-driven programs focus deeply on driver safety and personalized analytics to provide our students with individual feedback and top of the line instruction via our proprietary App.
Lifelong Career Support: We offer continuous job placement opportunities through our subsidiary company, Truckers Network.
About 160 Driving Academy
160 Driving Academy is the nation's largest commercial driving school. As the fastest growing vocational school in the country, in 2023, the Company will train over 35,000 students on how to safely operate a commercial vehicle across its 158 CDL schools across North America. 160 Driving Academy is licensed and operates in 45 states and operating soon in Canada. Each school is certified and licensed by the Federal Motor Carrier Safety Administration's Entry Level Driver Training Program. The 160 Driving Academy is integrated with over 550 Workforce offices nationwide to create jobs for unemployed and underemployed workers. 160 Driving Academy supplies the largest employers in the nation with an unparalleled level of recruiting, high-quality training, safety effectiveness, and driver analytics. Many of these employers have trusted 160 to provide the majority of their driving workforce.
160 Driving Academy's sister companies, Truckers Network, and the 160 Driver Score provide the most advanced job placement and compliance scoring capabilities in the industry. Truckers Network is the trucking industry's premier job rating, posting, and hiring platform. This mobile technology offers the most advanced and modernized hiring options to match qualified CDL candidates with Companies at the lowest cost in the industry. With over 200,000 curated CDL Drivers in the Network, companies can find qualified drivers more efficiently than any other hiring platform. The Truckers Network facility rating and review functionality now offers Drivers the ability to rate, review and share their delivery experience, reduce overall wait times and improve supply chain efficiency across North America. Visit truckersnetwork.com or download the Truckers Network App on the Google Play or the Apple App Store.
---
Tags
florence
Eastern Kentucky
career fair
high school students
cdl training.
cdl classes
cdl training near me
cdl classes near me
cdl school
cdl school near me
truck driving school.
trucking schools near me
truck driving school near me
cdl training houston
---