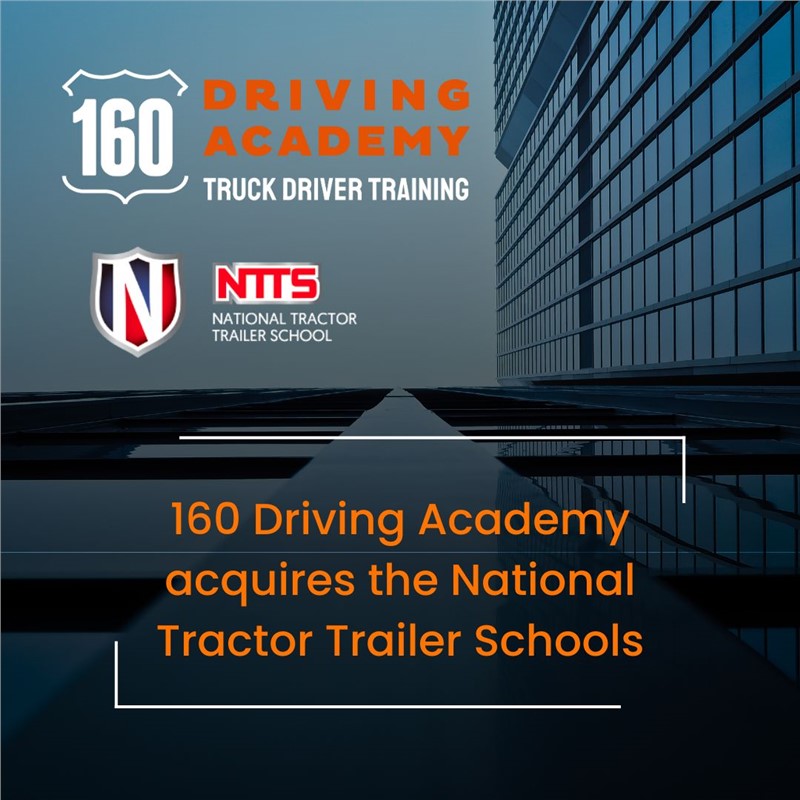 CHICAGO, Nov. 9, 2023 /PRNewswire/ -- 160 Driving Academy acquires National Tractor Trailer School (NTTS) locations in Buffalo and Liverpool, New York.
The National Tractor Trailer School, previously owned by Swift Transportation, closed their doors and stopped accepting new students as of April 27th, 2023. With the acquisition of NTTS by 160 Driving Academy these schools in Buffalo and Syracuse are now open for business and enrolling students.
With the lack of the Commercial Driving Schools in upstate New York, 160 Driving Academy, continues to expand in national footprint of schools by entering the Syracuse and Buffalo markets. As the largest commercial driving school in the nation with an unparalleled level of recruiting, high-quality training, safety effectiveness, and driver analytics, 160 Driving Academy is ready to help those who have been wanting to pursue a career in the trucking industry. Combined with its acquisition of Professional Driving Institute in Rochester, New York earlier this summer, 160 Driving Academy now has three campuses in upstate New York as it continues its expansion plans in the Northeast and New York markets.
CEO of 160 Driving Academy, Steve Gold, remarked: "We are excited to acquire the NTTS schools in Buffalo and Liverpool from Swift Transportation. NTTS has a long-term and excellent reputation providing high-quality training and student success for these communities. We aim to continue to build on NTTS's reputation as we provide our 160-hour training for the Buffalo and Syracuse residents, agencies and employer partners. With three schools in New York state, we will look to further expand our footprint as we have in the other 45 States where we operate. As an advocate for all of our students in need of high-paying jobs we will continue to provide the highest quality, local training for our students that leads to direct job placement in the transportation industry."
About 160 Driving Academy
160 Driving Academy is the nation's largest commercial driving school. As the fastest growing vocational school in the country, in 2023, the Company will train over 35,000 students on how to safely operate a commercial vehicle across its 158 CDL schools across North America. 160 Driving Academy is licensed and operates in 45 states and operating soon in Canada. Each school is certified and licensed by the Federal Motor Carrier Safety Administration's Entry Level Driver Training Program. The 160 Driving Academy is integrated with over 550 Workforce offices nationwide to create jobs for unemployed and underemployed workers. 160 Driving Academy supplies the largest employers in the nation with an unparalleled level of recruiting, high-quality training, safety effectiveness, and driver analytics. Many of these employers have trusted 160 to provide the majority of their driving workforce.
160 Driving Academy's sister companies, Truckers Network, and the 160 Driver Score provide the most advanced job placement and compliance scoring capabilities in the industry. Truckers Network is the trucking industry's premier job rating, posting, and hiring platform. This mobile technology offers the most advanced and modernized hiring options to match qualified CDL candidates with Companies at the lowest cost in the industry. With over 200,000 curated CDL Drivers in the Network, companies can find qualified drivers more efficiently than any other hiring platform. The Truckers Network facility rating, and review functionality now offers Drivers the ability to rate, review and share their delivery experience, reduce overall wait times and improve supply chain efficiency across North America. Visit truckersnetwork.com or download the Truckers Network App on the Google Play or the Apple App Store.
SOURCE 160 Driving Academy
---
Tags
new york
ntts
pdi
rochester
liverpool
buffalo
cdl training.
cdl classes
cdl training near me
cdl classes near me
cdl school
cdl school near me
truck driving school.
trucking schools near me
truck driving school near me
cdl training houston
acquistion
---