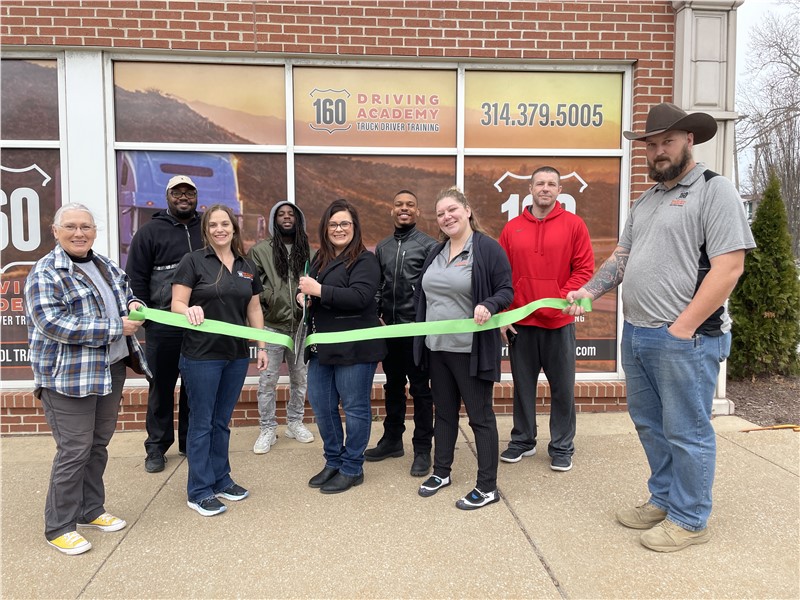 EVANSTON, Ill., March 27, 2023 /PRNewswire/ -- 160 Driving Academy's branch location in St. Louis, Missouri hosted a 5 Year Anniversary Event to celebrate five years of success and helping change and improve the lives of its inspiring students.
The 5 Year Anniversary Event for the St. Louis location occurred on Tuesday, March 21st from 10:00 a.m. to 12:00 p.m.
Commemorating the event, Steve Gold, CEO of 160 Driving Academy, remarked "Over the past five years we have created 1,600 truck driving jobs in and around the St Louis area. We are excited to continue to be part of the St. Louis community and help individuals who are unemployed and underemployed enter the trucking industry in four short weeks. We appreciate all our local employer, industry and agency partnerships and look forward to continuing to build on these excellent relationships."
The St. Louis Branch is located at 1151 S Kingshighway Blvd, St. Louis, MO 63110.
Overview of 160 Driving Academy CDL Training Programs in St. Louis:
Starting salaries for 160 Driving Academy graduates (on average) start at $65,000/annual, with tremendous growth potential.
Commercial Truck Driving is one of today's fastest growing career paths. Estimates predict 300,000 new jobs for CDL Holders.
Technologically Driven: Our unique and data-driven programs focus deeply on driver safety and personalized analytics to provide our students with individual feedback and top of the line instruction via our proprietary App.
Lifelong Career Support: We offer continuous job placement opportunities through our subsidiary company, Truckers Network the premier job posting and hiring platform in the trucking industry.
About 160 Driving Academy
160 Driving Academy is the nation's largest commercial driving school. As the fastest growing vocational school in the country, in 2023 alone, the Company will train over 35,000 students on how to safely operate a semi-truck across its 130-school system. 160 Driving Academy is licensed and operates in 43 states and each school is certified and licensed by the Federal Motor Carrier Safety Administration's Entry Level Driver Training Program. The 160 Driving Academy is integrated with over 400 Workforce offices nationwide to create jobs for unemployed and underemployed workers.
The 160 Driving Academy supplies the largest employers in the nation with an unparalleled level of recruiting, high-quality training, safety effectiveness, and driver analytics. Many of these employers have trusted the Company to provide the majority of their driving workforce.
160 Driving Academy's sister companies, Truckers Network, and the 160 Driver Score provide the most advanced job placement and compliance scoring capabilities in the industry.
---
Tags
cdltraining
cdlschool
cdlclasses
truckdrivingschool
cdlschoolnearme
truckdrivingschoolnearme
cdltrainingnearme
truckingschool
cdldrivers
cdldrivingschool
truckingschoolsnearme
Press Release
St.Louis
---