In many sectors, job opportunities are wide open as businesses struggle to find enough workers to fill positions—and this is certainly true in the truck driving field. As the need for truckers grows, so does the compensation businesses are willing to pay for qualified candidates.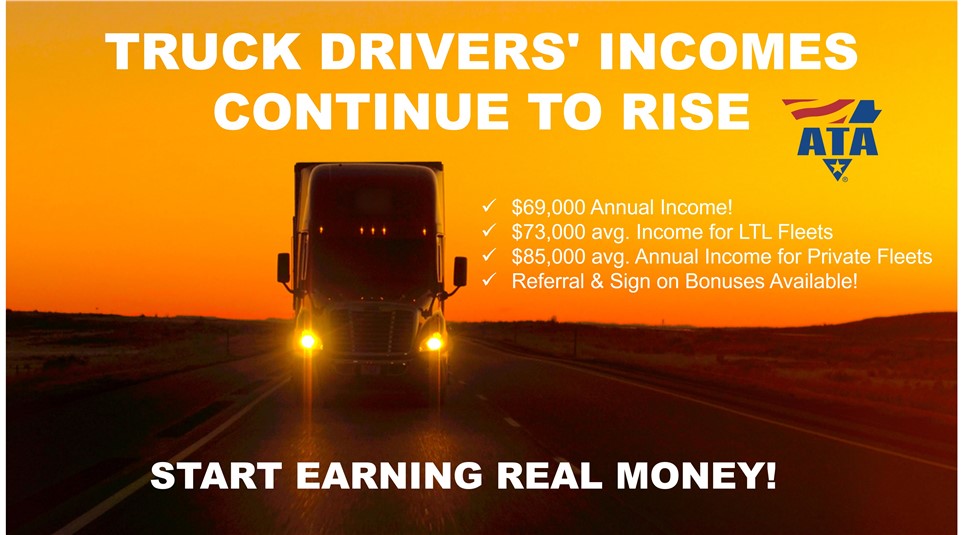 According to an article in The Wall Street Journal, truck driver pay rose 11% in the last year to an average of $70,000. Wal-Mart announced that it would pay drivers up to$110,000 in their first year.
Attractive salaries, bonuses, and ever-growing benefits have attracted new drivers to the industry, but there is still a significant shortage. Last year, the deficit reached 80,000 drivers, and the American Trucking Association predicts that the shortage could rise to 160,000 by 2030.
While that may be bad news for trucking companies, it's great news for anyone looking to embark on a lucrative new career.
The starting truck driver pay is great, but those salaries grow as drivers gain experience and additional certifications. The excellent compensation makes trucking a career choice that will allow you to easily provide for your family.
Whether you want a local driving job that allows you to be home every night or you like the idea of life on the road, there are thousands of open positions just waiting to be filled.
How Can You Start a Trucking Career?
Some careers with six-figure potential require a college degree that takes years to complete, but you can be on the road in your new trucking career in just four weeks. 160 Driving Academy is a leader in the industry, and our students get the hands-on, behind-the-wheel experience they need to be fully confident in any driving situation.
Your success is our success, so our instructors take the time to ensure our students can pass the CDL exam and start a trucking career. We have dozens of schools all across the country, so you won't have to be away from home during the school, and you won't have to worry about additional expenses, such as hotel rooms.
If you've been looking for a new career with growth potential and a high starting salary, trucking is it!
Contact Our Top-Rated Driving School Today to Learn More
160 Driving Academy is well-known among trucking companies for the quality of the drivers who graduate from our schools. That's why many of our students receive full tuition reimbursement from their future employers and why most of our students slide right out of the classroom and into the driver's seat.
Contact us today for more information about our classes and to speak with a member of our staff. Register today, and your new career could be just a month or so away!
*American Trucking Association, August 2022, www.trucking.org
---
Tags
trucking careers
cdltraining
cdlschool
cdlclasses
truckdrivingschool
cdlschoolnearme
truckdrivingschoolnearme
cdltrainingnearme
truckingschool
cdldrivingschool
truckingschoolsnearme
---