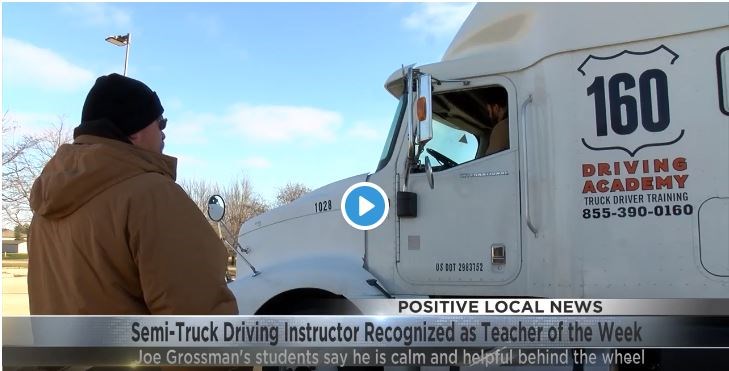 When learning takes place behind the wheel of an 18-wheeler, it's important that the instructor knows what he's doing. In the case of 160 Driving Academy's instructor Joe Grossman, there is no lack in the experience department.
He's had his trucking license for 30 years, and he's using his knowledge to help his students gain the skills and confidence they need to get their license and land their first trucking job—and he's having impressive success.
His students have a 98% success rate in getting their license. WREX, a news station based in Rockford, Illinois, took notice of his achievements and named Grossman their "Teacher of the Week."
One recent graduate, Brian Markel, doesn't think he'd have been able to achieve his long-time goal of becoming a truck driver had it not been for the caring, patient instruction of Grossman. Markel had dreamed of being a trucker for years, but he finally took the leap and attended 160 Driving Academy.
"I was very scared the first time I got in the truck, and Joe is definitely a very good instructor," Markel said.
Thanks to his own hard work and Grossman's instruction, Markel was hired by Cisco right out of school and will finally realize his dream of being a professional truck driver.
Markel isn't the only one who feels his life was changed in part due to Grossman's excellent instruction. Robert Guzzardo wanted a career that would help him to be able to provide for his wife and children. He knew that trucking was a solid, well-paying career, so he decided to attend 160 Driving Academy—and he credits Grossman for helping him succeed.
"Without his knowledge and his ability, I wouldn't feel as confident as I am with my abilities," Guzzardo said.
Grossman, who surely remembers his first time behind the wheel, said it's not just about the technical skills.
"I think a lot of it is patience, you have to have a calm and relaxed environment for them to learn," he said. 
Congratulations to Joe Grossman on being named "Teacher of the Week" and thank you for exemplifying what 160 Driving Academy is all about: Helping every student succeed.
Are you looking for a new career? Contact us for more information about 160 Driving Academy and learn how you can be on the road starting your trucking career in just four weeks. Call today, or fill out our online form now to get started.
---
Tags
online CDL class
truck driving classes
Local Trucking Classes
cdltraining
cdlschool
cdlclasses
truckdrivingschool
cdlschoolnearme
truckdrivingschoolnearme
cdltrainingnearme
truckingschool
cdldrivingschool
truckingschoolsnearme
---