Thousands of people are searching not just for a job, but they are searching for a career. The good news is that thousands of companies throughout the country are searching for skilled truck drivers. In fact, there are about 51,000 open positions.
See 160 Driving Academy Featured on Fox News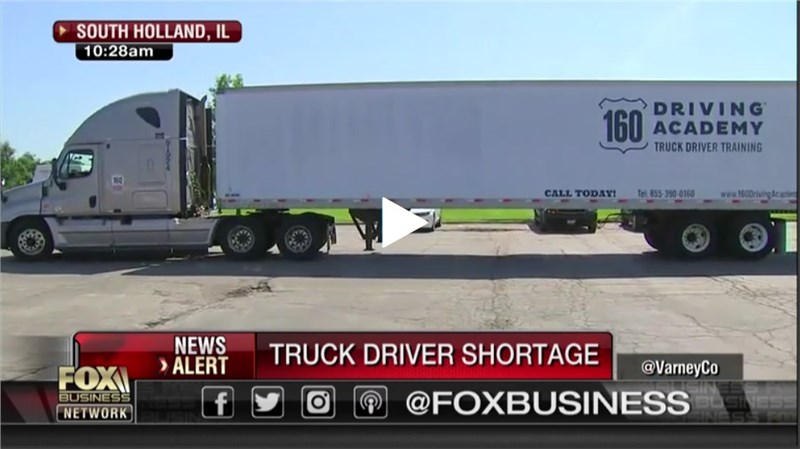 Fox Business News' Jeff Flock visited 160 Driving Academy where he chatted with our COO, Jose Ochoa, and our lead instructor, Lowell Newbold. Ochoa pointed out that the demand for truck drivers has increased significantly.
"The demand the past two years has been through the roof," he said. "There is a huge labor pool shortage in general."
160 Driving Academy is helping to supply that shortage by turning out quality drivers after just four weeks of intensive training with the best instructors in the industry. Drivers who successfully complete the program are guaranteed a job making at least $50,340 a year upon graduation—and many make much more.
The tuition is affordable, and most students only need to make a small down payment of $250 to get started. For drivers that meet certain qualifications, a trucking company may cover the full cost of tuition if the student agrees to work for them after graduation. While learning the finer points of driving a big rig might be challenging, finding a job upon graduation is not.
"We're training them for companies," said Newbold. "So when they get out here they have a job waiting for them." And it's a well-paying job at that.
Ochoa pointed out that the average beginning salary provides a good middle-class living, but that the annual salary for the best drivers can grow to more than $100,000 in just a few years with experience and the right endorsements.
160 Driving Academy started in 2012 with one school, and we now operate 32 schools in several states and employ 110 instructors. Ochoa made it clear that the Academy is not done growing.
"We're going to keep growing until we have schools all across the country to serve our carrier partners with drivers who are safe on the road," he said.
Those looking for a new career can be on the road behind the wheel of a big rig in just four weeks. Contact us today to learn more about our affordable truck driving academy. Call 160 Driving Academy today, or fill out our simple online form now to get started.
---
Tags
Fox News
cdltraining
cdlschool
cdlclasses
truckdrivingschool
cdlschoolnearme
truckdrivingschoolnearme
cdltrainingnearme
truckingschool
cdldrivingschool
truckingschoolsnearme
---